NXTR PM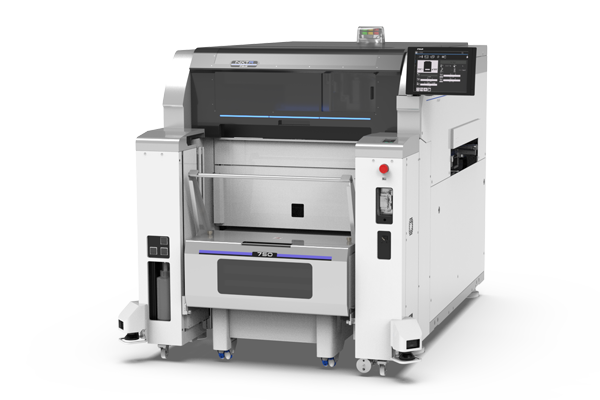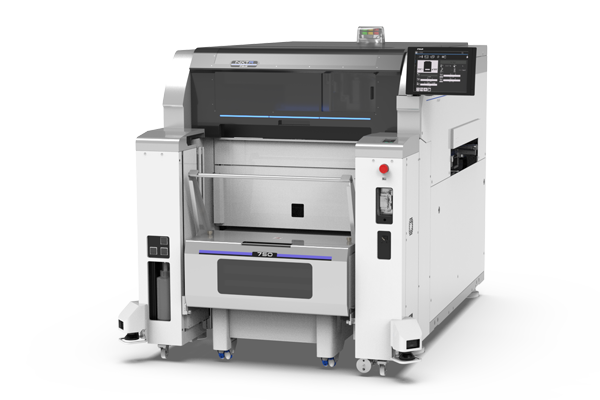 NXTR PM is a printer that embodies the NXTR concept of reducing line size, high area productivity, front operation, and ease of use.
It is built to support wide panel and frame sizes, and has the capability to print delicate solder patterns.
By creating optimum production schedules using the Fuji system, and linking with other machines in the line, it is possible to achieve stable production.
Various data is collected within the machine, which can then be used to maintain quality and the state of the machine.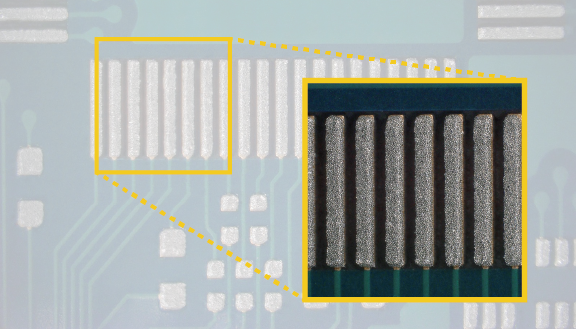 High quality printing
Printing at the correct position, with the correct amount, in the correct shape
Repeated alignment accuracy ±10µm(6σ)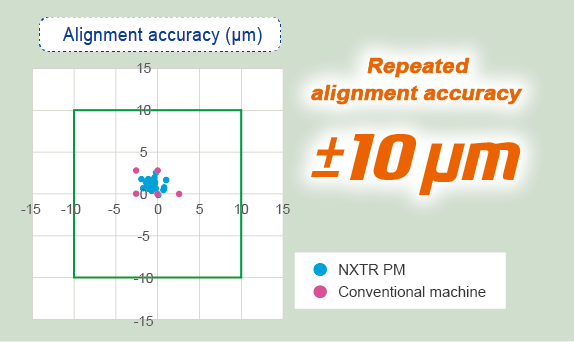 Better responsiveness to positioning the mask results from the lighter-weight offsetting mechanism with reduced sliding resistance in addition to advanced image recognition accuracy for fine marks that is driven by the high resolution camera.
This brings a high level of alignment performance with stable printing quality.
Using the appropriate print pressure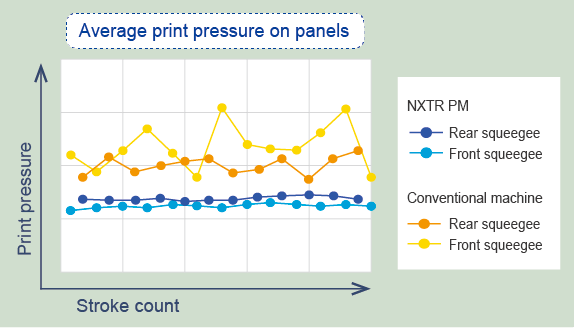 It is essential to apply the appropriate pressure to print the correct volume of solder. Our real-time print pressure feedback control and newly developed squeegee head stabilize the print pressure at all times and maintain the angle of the squeegee edge.
This ensures the correct volume of solder.
Printing shapes with sharp outlines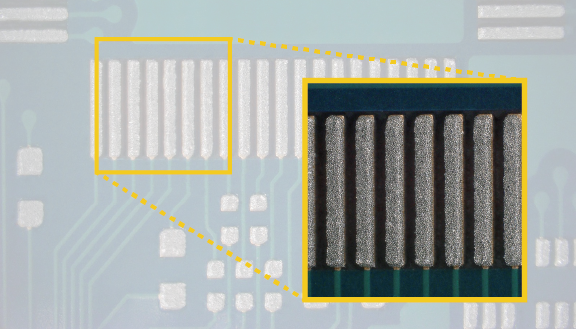 Taking into account the solder fluidity during snap-off, snap-off operation has optimized acceleration control.
This makes solder deposits in apertures transfer onto panels in the correct shape.
Reducing print deviations caused by stretched masks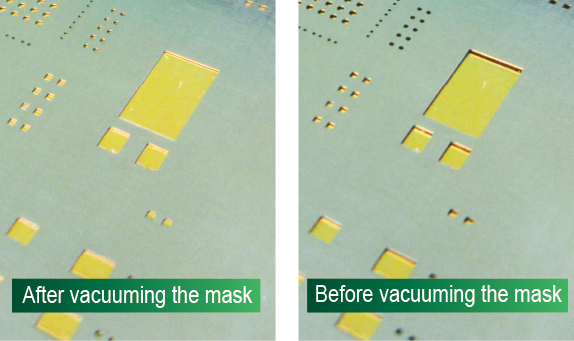 The renewed vacuuming mechanism improves the panel and mask adhesion.
This eliminates print defects caused by stretched masks.
Preventing solder from escaping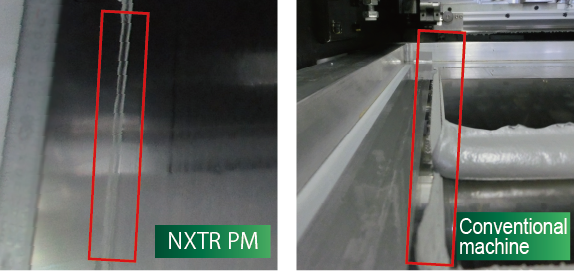 The mechanism to reduce the amount of solder escaping from the printing squeegee lowers the volume of escaped solder substantially.
This leads to a higher rate of utilization of solder.
While this results in using fresh solder which furthers the stability of print quality, it also reduces solder collection and cleaning work.
No line stops for quality-related errors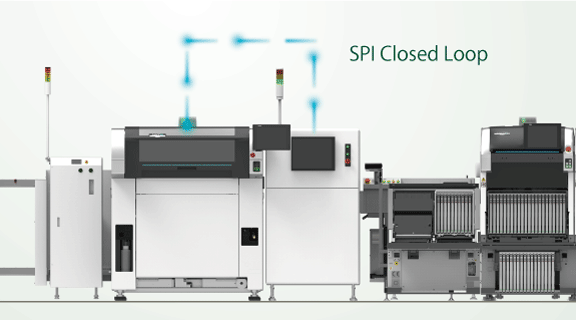 Based on inspection result feedback from SPI machines, automatic offsetting is implemented in the printing conditions based on a prediction of future printing problems such as solder volume deviations, misalignment, and smearing.
This helps maintain high quality printing.
* Option

- Automatic mask positioning adjustment
- Mask condition visualization by mark camera
- Solder supply instructions
- Automatic cleaning
- Automatic production stops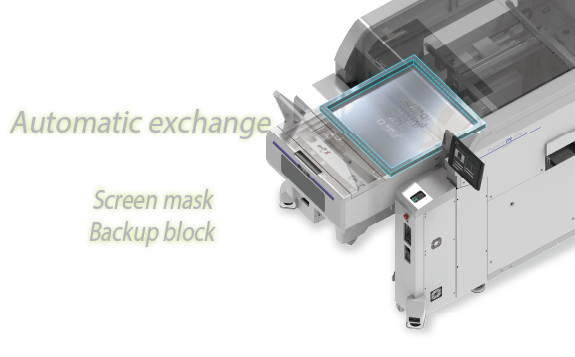 Support for various production types
Building production lines with the flexibility to handle various types of production
Making changeover work hands free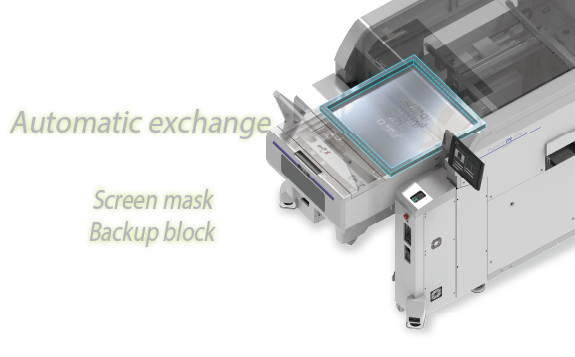 It is possible to automatically exchange screen masks and backup blocks by using PM Smart Changer.
Setting materials in the PM Smart Changer rack in advance makes it possible to automatically change the materials when changing the production model.
Changeover work such as collecting and supplying solder when exchanging screen masks, changing the conveyor width, and positioning backup blocks can be automated.
This reduces the workload on operators and eliminates reworking that may result from human error.
* All are optional other than conveyor width adjustment
No need for test printing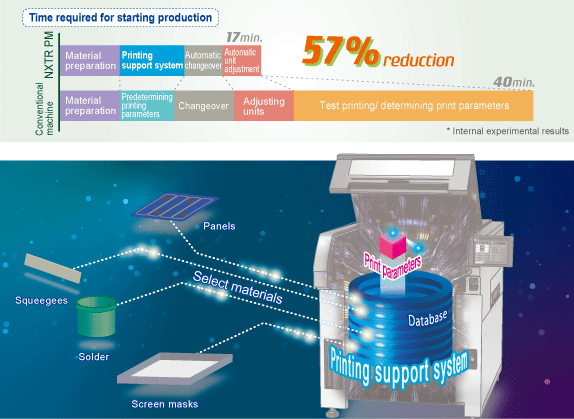 Automatic extraction of print parameters from the database makes it possible to quickly determine printing conditions and start production without test printing.
It is no longer necessary to look for past performance records and adjust parameters from experience.
This helps to minimize the time until the start of production.
This system is also designed for referencing past quality records from SPI machines, to provide the option of selecting more suitable printing conditions.
Flexible support for a wide variety of production

Single lane and dual lane production is supported by a single machine accordingly to fit any situation. All kinds of production are flexibly covered; from producing small panels for smartphones to large panels associated with automotive electronics and network infrastructure.
The NXTR PM supports dual lane production and is highly compatible in line configurations with the NXTR.
Supplying materials without stopping production

Solder cups and cleaning paper are accessible from the machine front during production for easy exchange.
Equipped with the solder transport mechanism*, the machine transports solder to printing positions during dual lane production.
These features ensure non-stop production in good harmony with material supply.
* Option
Non-stop production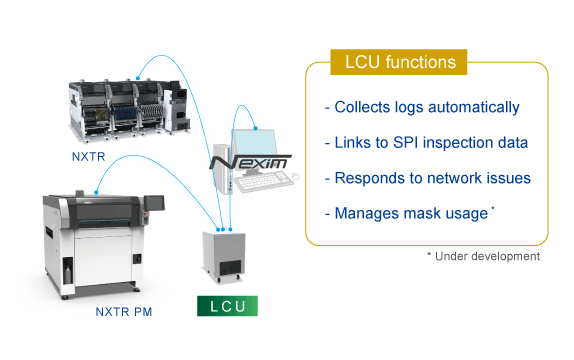 By automatically saving logs and image data, issues that may cause machine stops and information that can be used for problem solving are not missed, for faster recovery times.
Furthermore, network conditions are constantly monitored to prevent production stops associated with network issues from occurring.
* Option
Smart factory initiative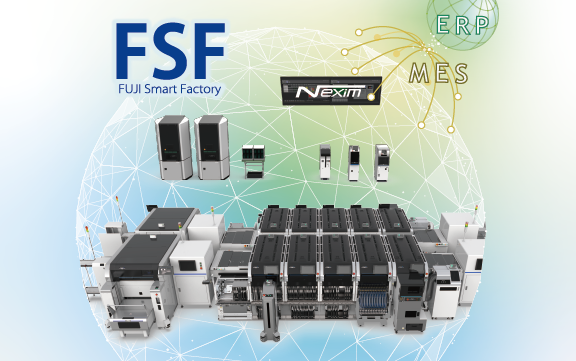 FUJI Smart Factory offers solutions for a wide range of challenges amidst various production types, which in turn improves factory productivity and flexibility in parallel with maximizing the QCD performance of manufacturing.
* Option